The Maison Française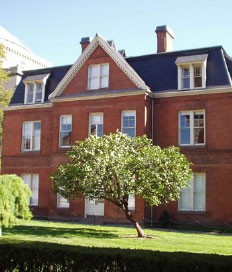 For more than a century, the Columbia Maison Française has been a leader in fostering intellectual and cultural exchange between the United States and France, Europe, and the French-speaking world. The rich program of events at the Maison Française generates debate, spotlights original scholarship, promotes exchange across disciplines at Columbia and beyond, and contributes to international and cross-cultural understanding in an increasingly global world.  
Housed in historic Buell Hall, and beautifully renovated for its 2013 Centennial, the Maison Française frequently hosts top thinkers, artists, and leaders for talks, roundtable discussions, academic conferences, seminars, and stimulating conversations across a range of topics and disciplines. In addition, the Maison offers film screenings, occasional performances and exhibits, a book club, a weekly café-conversation for students, and hosts dinners, receptions, and other special events. These attract Columbia students and faculty while also engaging broader audiences from New York City. Speakers in recent years have included Jeanne Balibar, Viggo Mortensen, Bill McKibben, Claude Lanzmann, Thomas Piketty, Maryse Condé, and Alice Diop. 
The Maison Française has been directed since September 2009 by Shanny Peer and is guided by a distinguished Advisory Board chaired by Paul LeClerc. The Maison Française is part of a network of departments and programs that make Columbia a leading center for French and Francophone studies, furthering Columbia's mission as a global university. These include the Department of French, the Institute for African Studies, the Alliance Program, and Columbia Global Centers / Europe in Paris.